October 20, 2015
We were thrilled to once again welcome 8 enthusiastic employees from William Morris Entertainment/IMG for their global, annual "Walk the Walk" volunteering day. This year their day was spent at the vibrant POP Brixton where we are soon to take the container which will be our hub in the community.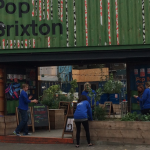 The day was all about helping organisations already resident at POP and was therefore very diverse. Starting with garden landscaping with Uncommon, followed by an introduction to the Brixton Pound they then pulled on the dungarees to paint a container.  A quick break then time for a Q and A session with some young budding talent at Reprezent Radio.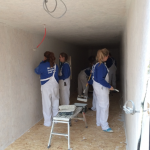 The feedback on the day was really positive and we are flattered to be so sought after as an organisation for these day.