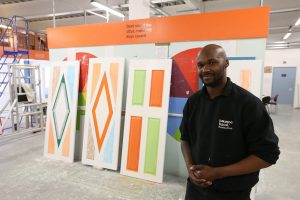 Partnered with Novus we operate in a number of prisons in Greater London and beyond.
Our first was in HMP Brixton where we have since opened 2 further centres enabling prisoners to now train in dry lining, painting and decorating and scaffolding which gives a broad skill base to join the construction industry when leaving prison.
Following Brixton we now operate training centres in HMP's Isis, Wandsworth, Pentonville, Feltham and Leeds. These prisons deliver one or more of the disciplines with the exception of ISIS where in 2018 we have added Aerial Vertical Window cleaning to the courses on offer.
Our expansion beyond Painting and Decorating has been possible with the support of partners such as Alandale, Encon, Landsec, Knauf, NJC and Nevill Long who have been involved in the development of the dry lining, scaffolding aerial window cleaning training.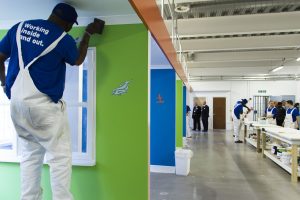 These prison training centre models demonstrate the commitment of employers in the sector to train and support people into work in response to the huge need for employees in the construction industry.
In addition, we also train people to become trainers themselves which adds another employment opportunity.
Our training centres give inmates a fantastic opportunity to learn skills and gain qualifications whilst still inside so they are better prepared upon release to obtain employment and resist re-offending.