December 12, 2016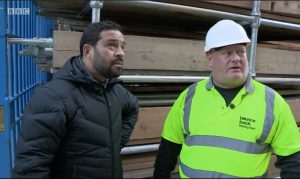 We were so pleased that Raphael Rowe was so inspired by our work that following his visit to open the scaffolding centre that he campaigned to run a feature on our training and employment on the BBC The One Show in early December.
The comprehensive piece started in HMP Brixton interviewing our trainer and a trainee before visiting one of our recently qualified and released cohorts now out working full time on site with Alandale.
It really told our story well and we hope raised awareness hugely of the importance of giving ex-offenders a chance.