October 18, 2016
At an event attended by in excess of 100 people held at the Clink Restaurant our scaffolding centre was officially opened by Paul Elliott,  eminent football governing body ambassador and passionate supporter of youth engagement, and hosted by TV presenter and journalist Raphael Rowe.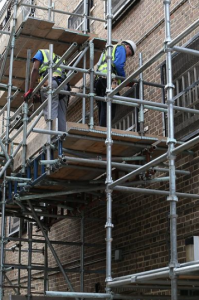 The launch of our latest skills training centre is a very special for two reasons. It is the first ever in a UK prison and secondly it is a clear example of a response from the construction industry to an immediate need for scaffolding recruits.  Alandale, through its relationship with Land Securities came into the prison and set up the training facility for us so we could train up potential employees.
Debbie Akehurst Head of Economy and Communities at Land Securities said ' this is a great example of true partnership working – the new Scaffold Centre will meet industry skills gaps and tap into the potential of people in prisons, it's a win win situation for everyone' – people get a second chance, the industry gets skilled workers and our communities become safer by reducing reoffending rates'
What has also been hugely rewarding is the immediate response we have had from scaffolding companies around the UK who are keen to tap into the unique pool of trainees for a section of the industry that is crying out for workers.
'We have been delighted by the opportunity that this gives our participants to get into employment on release' says Fran Findlater CEO of Bounce Back.  'As we focus on training skills that respond to the need of the construction industry, in this case we have more than fulfilled our objectives – we could easily place 20 or more scaffolders into work and we've only been open a couple of months.  This is all about getting our participants ready for work on site.  It is not about high levels of extensive training, it is to see if individuals have the appetite to go up a scaffolding tower and get involved in the hard work the profession requires.  If participants do this, dry lining and painting and decorating in our 3 centres, we know they will have an aptitude on release.  Ultimately this has one end goal – stopping people coming back to prison because they have the skills, confidence and earning potential to manage on the outside.'
Prisons Minister Sam Gyimah said:
"Bounceback is an excellent example of how employers can provide invaluable work opportunities for offenders while in prison to help them turn their lives around.
"Schemes like these can help to break the cycle of re-offending, which means fewer victims and saves the taxpayer money."
In addition we continue to ensure that the trainees have also gained their CSCS cards whilst still in the prison environment so they are ready to work as soon as they are released – something that is fundamental to preventing people re-offending when they leave prison.
The employers and companies we work with have been resolute in their support, as have NOMS, NOVUS and the prison.  The industry values the fact that not only does the organisation provide training, but they work with the individuals 'through the gate' as well as with employers on an ongoing basis to ensure both sides are working well together.  As Keltbray said when they started working in the sector 'we genuinely couldn't have done it without them'.  Equally, we couldn't do it without the support of the construction companies, it is an ideal model to take forward.