May 18, 2015
Our new Dry Lining Training Course has now commenced in HMP Brixton with participants embarking upon the introduction and theory side pending final completion of the bespoke training centre.
This is the first time a Dry L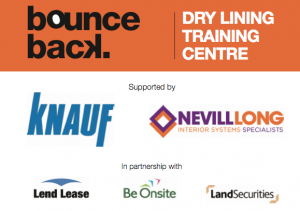 ining course will run in a London prison in part due to the practical logistics of transporting the vast amounts of materials required and also the cost. Thanks to some phenomenal support from Knauff and Encon and others featured here it has become possible for us to open the centre and offer inmates of Brixton the opportunity to learn this sought after skill.
The programme is targeted to train 70 participants per academic year and offers those referred whilst in custody the opportunity to participate in the CITB C Skills course in Dry Lining to Diploma Level 2.  Having gained a construction skills qualification whilst in custody, cohorts are well positioned to enter the construction industry work force immediately upon release. This is a major step in bridging the gap from prison to employment as we are further supported by construction industry partners.