November 28, 2019
Come to our FREE MORNING EVENT on 6 December at our space in Victoria to embrace Christmas and our work with the Royal Astronomical Society.
People of all ages are invited to come along to a Festive Celebration of Astronomy and engage with displays and presentations about the exciting world around us.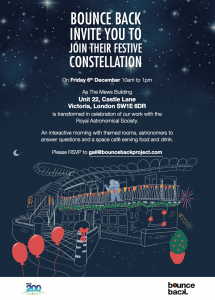 Funky interactive things like holding real moon rocks and STEM demonstrations from scientists, as well as the opportunity to 'ASK an Astronomer' anything you want to know about outer space.
You can find out about 'What Astronauts Eat' in our Space Café and enjoy some festive earth food while you are there.
There is a serious side to the event too: Criminal justice and rehabilitation practitioners can learn about our innovative in-prison engagement work around Astronomy and science- a new pilot programme called Explore1.2.3.
Careers advice, apprenticeships options and employers from a range of industries will also be there for adults looking for education, work and training opportunities.
Hosted by Bounce Back, from 10 until 1pm on Friday 6th December in London SW1.
and supported by the Royal Astronomical Society, theres some impressive (and accessible) knowledge to be shared for everyone.
All are very welcome and we offer travel grants for eligible people- please apply with your reply.
RSVP essential to gail@bouncebackproject.com