January 26, 2015
Probably our best ever before and after image… Boots, Liverpool Street Extension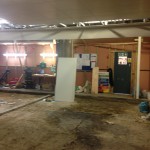 We are so grateful that contractor JM Scully have actively engaged with us to integrate our    painters into their workforce since our presentation last year at their Reducing Re-offending Taskforce Meeting.
Liverpool St Station is the third store we have decorated with them following on from Kensington High St and Twickenham. One of our guys single handedly carried out and completed all of the decorations working through the night for 5 nights alongside all of the other trades.
We look forward to working again on upcoming projects in and around the London area.