November 29, 2017
With a hint of Halloween our Annual Awards ceremony was held at the end of last month at Centrepoint's Dean Street Cafe. Hosted by Tom Watt, guest enjoyed a humorous evening with delicious food presented by the trainees at the cafe.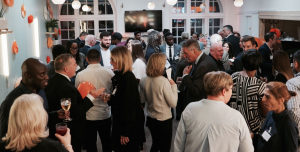 This year the awards were donated and presented by our Employers and Partners who personally acknowledged the achievements of 14 individuals who had excelled with them. But the event was not just an intimate celebration for the award winners. It was also an opportunity to thank and celebrate our very valued employers and supporters – the very people that provide the essential ingredient for changing perception, spreading the word and helping others to see the talent pool that exists so that we can all help to reduce re-offending and change lives together.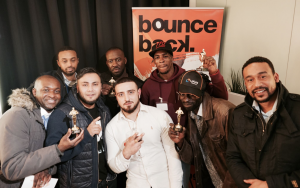 Please take a look at the highlights of the evening in our video:
And well done to the worthy winners of the awards bellow:
Rash, who won the "Most Entrepreneurial Spirit" presented by Michael Smith of Brixton Bid.
Vincent received the "Outstanding Achievement Award" from Landsec
Dabs received the "Proud Father Award" having just become one from Jacquie of Boots
Kieron won the Out for Good Award for his determination to change his life
Rachel, one of our Crisis participants, won a special award.
Kieron was acknowledged for "Turning over a new leaf" with an Award from HMP Brixton and National Prison Radio
Keltbray presented Nathan with their award for "Breaking Down Barriers"
Scaffolders Alandale acknowledged Jermaine for "Working his way to the top"
J M Scully recognised Wojciech for his work on Boots sites
Gympsumtools presented Jerome with an award for his skills improvement
TFL awarded Jermaine the "Out for Good" award for his success with our new pilot programme supporting offenders into a wider variety of industries.
There were two recipients for the Novus award for "Sustained Employment" – Ali and Dawit and 3 recent starters: Perrie, Dennis and Steve were awarded "Best newcomers award" sponsored by Lucas