January 8, 2015
This year sees the start of an exciting new project for Bounce Back – Project Shoreditch.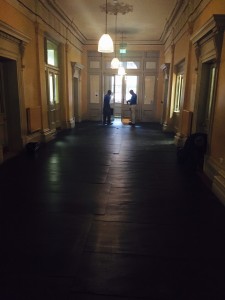 The exciting task involves the re-decoration of this magnificent listed, historic building.
This will run over the next year and is hugely significant being the first time the building has been painted since the 1970's.  Work is underway combining the skills of a strong team comprising ROTL's, trainees and supervisors to ensure the first phase is completed by the end of this month.
The project represents a unique opportunity for Bounce Back to give our painters and decorators a highly aspirational job that will require them to hone their skills and add to their employability as they work along side a number of additional professionals. Furthermore we will invite other ex-offender organisations and local community groups to work alongside them.