August 11, 2014
Last week we welcomed the Japanese Minster of Justice, Mr Sadakazu Tanigaki and his formal delegation to our office for a roundtable discussion on reducing recidivism throughout Japan focusing on their understanding of our programme, thus possible implemention of a social enterprise model throughout Japan with the central aim of tackling re-offending and finding solutions to the resettlement of ex-offenders into society.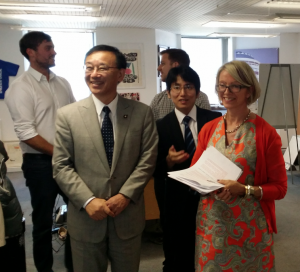 Recommended by Social Enterprise UK and the Ministry of Justice, Bounce Back advised Mr Tanigaki, on ways in which probationary services can be incorporated with rehabilitation to provide job security and accommodation for those whom have been released from prison. Furthermore, Bounce Back shed light on various measures which encourage the reintegration of ex-offenders back into society. These included; pre-employment preparation both in-custody and out-of-custody as well as removing the barriers to work.
The landmark meeting highlighted the ever-growing global presence of social enterprises in tackling societies most pressing challenges. With Bounce Back leading the way for effective prison rehabilitation, the next step involves working internationally with governments and agencies to employ business fundamentals in order solve the international issues we encounter. Minister Tanigaki ended the discussion by extending an open invitation to Bounce Back – to visit and aid in the reformation of the Japanese custodial system, focusing entirely on rehabilitation and post-incarceration work programmes.